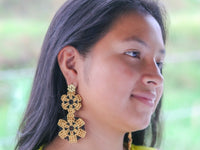 The Nepono Earrings
Embera Chami accessories are all inspired by nature and ancestral wisdom.
Nepono means flower in their Embera Chami language, and this flower had tremendous medicinal properties as well as spiritual significance.
For me, is an honor to be able to work with them and showcase their designs on my website.
see this collection